« A Europe that protects, a Europe that empowers »
28 June 2021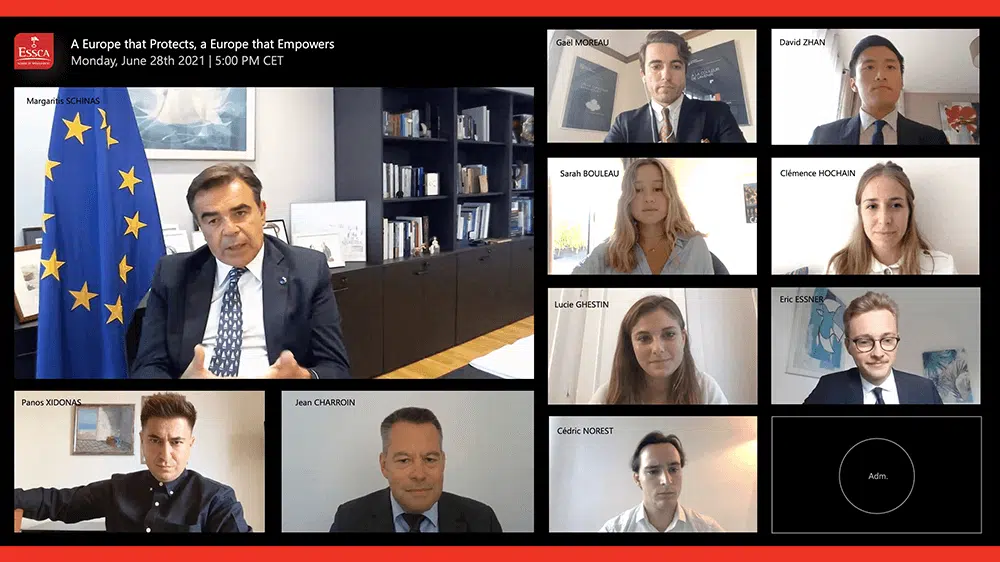 "Can you hear me?" Yes, we heard you Mr. Margaritis SCHINAS.
ESSCA, School of Management, was pleased to welcome the Vice-President of the European Commission, Mr Margaritis SCHINAS, at a conference entitled "A Europe that protects, a Europe that empowers" organised by Dr Panos XIDONAS on 28 June 2021.
Margaritis SCHINAS – Vice-President of the European Commission and Commissioner for Promoting our European Way of Life
Mr Margaritis SCHINAS took office as Vice-President in December 2019, with the new portfolio for Promoting our European Way of Life, which he enthusiastically presented at this conference.
He believes that this function finds its root in the speech of the President of the French Republic, Mr Emmanuel MACRON, at La Sorbonne University, when he called for a Europe that protects and a Europe that Empowers. He took a few minutes to explain "a Europe that protects" with the EU policies for migration, security, including cybersecurity, and public health, and "a Europe that empowers", a Europe of opportunities, with the EU policies for education, sport, culture, youth, mobility, freedom of religion and beliefs, fight against antisemitism.
He placed both concepts on an equal level stating that they mirror European strengths and diversity.
Questions from the students to Vice-President Margaritis Schinas
Following his introductory speech, Mr Margaritis SCHINAS was questioned by an attentive and concerned audience of graduates and future graduates. In only seven questions, they have covered a wide range of topics: (un)employment, economic activity and living standards with the return of inflation, integration policies and post covid asylum, integration of immigrants into the local job market, the recovery plan and funding allocations, the link between climate change and migration, women in IT and science, Europe's position on sustainability. All these concerns found an answer and brought up topics such as the monetary policy and the European Central Bank, mobility and migration flows, the Blue Card, European talent pools and talent partnerships, the dual transition to a digital and green economy, and the reinforcement of European leadership position in sustainability.
Mr Margaritis SCHINAS won over his audience, and the General Director of ESSCA School of Management, Mr Jean CHARROIN, addressed his acknowledgement to him for having opened stimulating avenues of reflection.