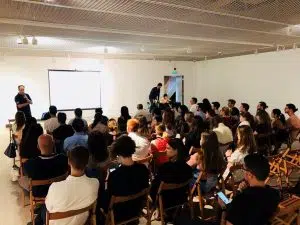 On 17 June 2018, Stéphane Wilmet, the Chief Consumer Officer of L'Oréal China shared his experience on branding to Chinese consumers. Organised by China Crossroads and ESSCA School of Management and hosted by Fosun Foundation, the event proved to be full of insight about how to reach the Chinese market of today and of tomorrow.
One of the qualities of Mr. Wilmet's presentation was that it started on a macro point of view of marketing trends and then moved on a more precise vision of beauty and luxury consumers, giving the audience a wide yet detailed portrait of where we stand. He started by making the point that with it's high level of connectivity and mobility, China was increasingly becoming one united cashless consumption society. The online and offline branches of the two omnipotent ecosystems that are Alibaba and Tencent are now fully integrated in the consumer's behavior. Mr. Wilmet pointed out very interestingly that the business development and the positioning of China as a center of digital disruption were not to be seen as a form of Westernization, but rather as a unique manifestation of modernization requiring to think marketing in a new light.
Because of diverse reasons such as increased contribution to public pensions, the buying of commercial insurance and an increase in income, to name only a few, the level of confidence of China's consumers is on the rise. It is fascinating to note that the average personal savings rate is 35% in China according to Wilmet, compared to less than 3% in the United States (Statista, 2018). A lower savings rate in China may hence translate into more consumption in China – if people save less, they will have more dispensable income and simply be able to buy more. China has the world biggest middle class, leading to the creation of multiple segments. Even though we can expect an even greater fragmentation in the coming years, one trend seems to be shared; consumers want to be considered as the unique individual they are, leading to a phenomenon Mr. Wilmet calls 'from mass to me'. Today's retailers' credo should be "attract me, make it easy, help me and know me."
Premiumisation is happening as consumers are on a quest for a better life. Generally, they are willing to pay more for a better product. What they want is solid quality, emotional satisfaction and superior performance. Tmall, the online business-to-customer retail platform of Alibaba, has defined five categories of individuals driving the market (Wilmet, 2018). These are: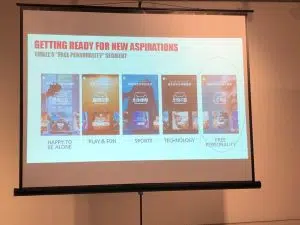 1. Happy to be alone,
2. Play & fun,
3. Sports,
4. Technology, as well as
5. Free personality.
In the field of beauty products, the 'free personality' profile, one new customer segment, is particularly revealing. It is representative of younger generations craving for fun and exciting experiences that manifests itself right now. Concerning the beauty industry and the free personality profile, an interesting phenomenon is the emergence of young boys experimenting with make-up, highlighting the fact that the game has definitely changed.
Right now, China's electronic commerce (e-commerce) is the driving factor of content explosion. This shift calls for new ways of marketing. It is as simple as that: if you cannot create exciting content on Alibaba's Tmall or Tencent's QQ and WeChat, you have already lost the marketing game. L'Oréal cherishes genuine values, a sense of community, personalization, collaboration, entertainment and immersion as assets to cultivate. Echoing Alibaba's founder Jack Ma, Mr. Wilmet explained that the era of pure e-commerce would soon be over. New retail would come by combining online, offline and logistics. Moreover, new technologies, such as facial recognition, might help to attain what can be called 'smart retail', and help secure the 'awareness-interest-purchase-fidelisation' of the customer loop. A switch from big to smart data has to be made in order to create the experience driven world that consumers – and companies – are longing for today.
[cite]