Webinar
3 June 2021, 9:30-12:30 CET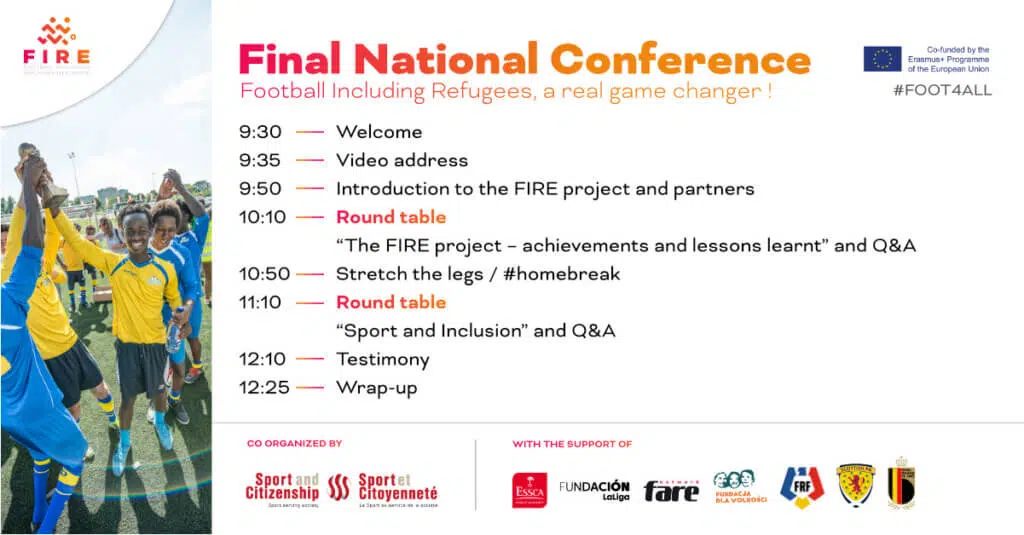 Football organisations have decisive roles to play to include refugees into European society! The FIRE Project, which was selected by the European Union's Erasmus+ programme for a duration of 24 months (2019-2020 – extended by one year due to Covid) builds on the remarkable contribution that football has played over the last years in favour of social integration of refugees.
The final project of FIRE, the creation of a free training tool (MOOC) for grassroots organisations, has been released these days. You can register here.
And now, just before the transition to the follow-up project FIRE+, it is time for the final conference where project partners and participants will share achievements and experiences. You are invited to join the webinar to discuss the issues of refugees, inclusion and sport.
---
This project is coordinated by Sport and Citizenshipp.
Partners:
ESSCA (France)
Football Against Racism in Europe – FARE Network (United Kingdom)
Fundacion La Liga del Futbol Professional (Spain)
Fundacja Dla Wolnosci (Pologne)
Romanian Football Federation (Romania)
Union Royale Belge des sociétés de Footbal (Belgium)
Scottish Football Association (United Kingdom)