Five years ago, in December 2007, I went to a workshop organised at Sciences Po Grenoble by the small but dynamic European Studies Section of the venerable French Association of Political Sciences. The very detailed call for papers had asked for contributions on 'Likes and Dislikes between Europeans', listing a whole series of possible topical approaches, none of which included sports or football. I nevertheless decided to present a paper on the affective dimension of our favourite 'European Passion' and was pleasantly surprised not only to see it accepted but even very warmly welcomed at the conference itself.
I was even more surprised one year later that Politique européenne, no doubt one of the best European Studies journal on the market, should indeed accept and publish my paper on football. But had anybody told me then that it would one day even publish an entire special issue on 'The European Space of Football', I would hardly have believed my ears.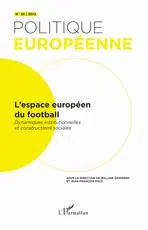 But there's no denying it: issue 36 of Politique européenne has the word 'football' on its cover. I have to pay homage to William Gasparini (Strasbourg) and Jean-François Polo (Rennes) for having convinced the editorial board of the relevance and timeliness of their topic. And the special issue they deliver provides for interesting reading.
It opens with an introductory article by the two editors that distinguishes between the two different angles from which the constitution of a European space of football is studied. On the one hand, there is an institutional approach focusing mainly on the impact of regulatory measures taken increasingly on a transnational or supranational level. On the other hand, there are case studies that deal with what is aptly named 'the variable geometry of identification' (p. 16), i.e. the symbolic space constructed by individual and collective actors.
A remarkable article, visibly based on high-quality doctoral research by Mickaël Heidmann (Strasbourg) and co-authored by Gasparini, sheds light on the the manner in which the different European stakeholders and institutional actors handle the treatment of young football migrants. It is followed by an analysis of UEFA's efforts to introduce and implement the famous financial fair-play (John Marks, Nottingham).
Probably the most interesting contribution is the one on secondary fandom and 'the erosion of national categories in European club competitions' by Cornel Sandvoss (Surrey). This very original paper, based on quality field work in Leverkusen and written in English, would fit perfectly into the FREE project, especially the thematic focus of the forthcoming Vienna conference in October 2013.
Two other case studies focus on Turkey and Serbia respectively. Jean-François Polo highlights the role sport, and especially football, may play for Turkey as means to demonstrate the nation's modernity and dynamism, while Loïc Trégrourès (ULB and Lille) interprets the ultra-nationalism flagged by supporters in Serbia as a challenge to European values. The issue closes with some concluding remarks by Andy Smith (Bordeaux). Overall, editors and authors deserve to be congratulated for this collection of article that delivers on its promise to reveal 'the dynamics and the ambiguities of the Europeanisation of football' (p. 16).
The FREE project is not absent from this issue of Politique européenne, not only because authors like Borja García, Paul Dietschy and David Ranc are quoted extensively by some of the contributions, but also because the regular section dedicated to 'Research in Progress' consisted in a detailed outline of FREE's rationale, objectives and methods.
It seems that football has come quite some way, in only five years' time.
[cite]