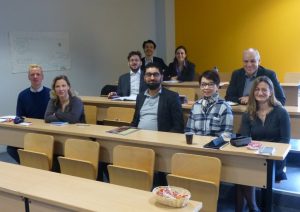 The spring 2016 research seminar of the EU-Asia Institute convened by Thomas Hoerber for Thursday 19 May brought together three recently joined members, speaking about their research, and an interested audience from various departments of ESSCA (plus Wei Shen and Maximilian Rech on Skype!)
Gabriel Weber kicked off the meeting, presenting two different research strands he is currently pursuing. He started with a report on field work carried out in Mallorca on 'the role of environmental organisations with regard to effective waste management', introducing the transdisciplinary fields of 'political ecology' and 'ecological economics'. He then went on to mention the EJOLT project on Environmental Justice Organizations, Liabilities and Trade, for which he is currently mapping place-based environmental conflicts in Europe.
Antonella Forganni spoke about her ongoing work in the new and quickly evolving field of drone legislation in Europe. She also combines different methodological approaches in her work, using the classical tools of legal analysis and other methods like participant observation and interviews. She thus obtains a both top-down and bottom-up approach to legislation in a newly emerging sector that seems particularly well-developed in France.
The third presentation was given by Jinzhao Chen. In an allusion to Robert Mundell's famous 'impossible trinity' theory, he named the three interdependenant pillars of his own research focused on the triangle of the exchange rate of the Yuan, capital control in China, and financial integration. He explained how this work was situated at the crossroads between different fields of research, namely International Finance, Economic History, and Chines Economy.
All three presenters were challenged by a curious audience. Despite their very different background and themes of study, they all had in common the wish to transgress traditional disciplinary borders and enrich their research through tools and ideas from other academic areas.