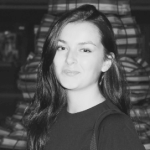 Contribution by Léa Morineau,
3rd-year student in ESSCA's Bachelor in International Business Development.
---
Gender inequality is a historical fact, based on the socially constructed roles of men and women established over centuries. In recent decades, women have managed to obtain more influence in a variety of areas, including the political arena. Also, as pointed out by Professor Laura Tyson in a comment for the McKinsey institute, men and women are currently at parity in health and education throughout much of the world. However, the very low percentage of women in high status or well-paid managerial positions represents one of the most important challenges of gender equality in almost every country.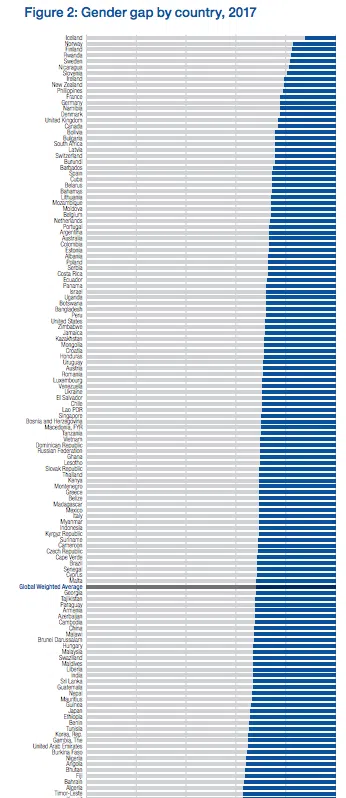 Women unfortunately continue to lag behind men in economic participation and opportunity by 15% to 25% in even the most gender-equal societies, as we can see in the graph from the Gender Gap Report 2017 (p. 8). This graph allows us to visualize the gender gaps left before reaching real gender equality in a large number of countries.
No country in the world has fully closed its gender gap, but some have closed more than 80% of theirs. Such as Iceland, which is the country where gender parity is the most implemented. The next ones are Norway, Finland, Rwanda, Sweden, Nicaragua, Slovenia, Ireland, New Zealand and the Philippines. In average, we earn only about three-quarters as much as men do, even when we have the same level of education and the same occupation. In an organization, the inferiority of women is often associated with their responsibility to family and parental leave, so that we have to find the right compromise between responsibilities of work and family.
Of course, I think everyone will agree to this point, that to reach gender equality we will have to go through the increase of women's economic power. But according to the World Economic Forum, achieving it requires an understanding of a very complex interplay of factors that affect rights and opportunities for women:
The families of today drive gender equality and female empowerment through their education. But this could be more effective if the society and government helped them. By the age of seven, little boys and girls have already learnt a lot about what is expected from them in accordance with their own gender, through stories, cartoons and the educational system.  In my opinion, "teaching little girls to lead", as Virginia Garcia Beaudoux recently requested, is an aspect that every parent should consider during the education of their children, to contribute to future women's empowerment.
School education could also be a key element. We know that more women than men are now enrolled in university in the majority of countries covered by the Global Gender Gap Report, but men still outnumber women in skilled jobs. Very clearly, teaching the gender equality message from primary to high school should be considered in order to try to change future employers' awareness. It's about inculcating to all that women deserve the same opportunities as men and that they bring added value to a company or a group in general.
Awareness raising can also be done through very influential spokespersons in the world. For me, Michelle Obama is a great example of a woman with a power to speak and be heard. This kind of woman must speak for all those who are not in a position to do so. Last November in Chicago, she claimed that « Women are underrated in the world ». She urged women to stand together to change things. And since laws and legislative systems are too slow to be implemented to advance gender equality, Michelle Obama speaks directly to men in her speeches asking them to give women space in their offices. The ex-first lady regularly reminds of the urgency of giving women places in management positions.
Awareness campaigns about the lack of professional opportunity for women spread in many countries, to watch one that currently circulates on social networks click here. As Klaus Schwab, the founder of the World Economic Forum, wrote in the preface to the gender gap report, there is "hope that communication will serve as a call to action to governments to accelerate gender equality through policy-making, to businesses to prioritize gender equality as an economic and moral imperative and to all of us to become deeply conscious of the choices we make every day that impact gender equality globally". Every reader of this blogpost should by the way join these efforts.
Some international organizations and governments have already started a significant increase in awareness of the importance of gender parity which contribute to reduce the Global Gender Gap. When looking at the graphs below, we can indeed see that the gender gap in economic participation and opportunity has evolved from 44% to 42% between 2006 and 2017. A faster pace would be better, but as long as the gender gap decreases we are proud of the progress made.
As the world moves from capitalism into the area of talentism, the integration of women into the talent sphere becomes a must. Companies with more women in top management and high status better reflect the profiles of their customers and employees. The companies also benefit from more diverse views, which allow them to have jobs differently structured and remunerated in order to enhance flexibility.
With the evolution of the mentalities and consciousness, discriminatory gender practices in recruitment and opportunities should be gradually banned in many countries in the future. The participation of women in organization will be boosted and results will be noticeable. The Global Gender Gap Report by the World Economic Forum concludes that it will take 81 years for the world to close the economic gender gap and realize the resulting growth benefits. There is no reason why it should take that long. Women's rights are human rights, but we are also a key element of economic prosperity. Some have already understood it.