Registration is open for the online workshop
The European Green New Deal and External Policies: European Perspectives and Implications for Asia-Pacific – The Case of India
which will take place on Tuesday, 20 October 2020, 11h00 CET / 14:30 IST.
Background: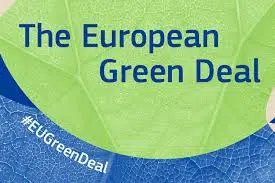 The European Union has traditionally been a pioneer in setting ambitious targets and promoting global cooperation regarding environmental policies to promote sustainable development within Europe and on a global level.
In December 2019, the president of the European Commission, Ursula von der Leyen, named the European Green Deal as "Europe's hallmark. "With a 250 billion Euro projected funding, it is one of the most ambitious projects the E.U. has set up so far – aiming at no less than Europe becoming the first climate-neutral continent."
Despite the E.U. still being the largest single market, the ambitious goal of the « European Green Deal" can only be achieved in redefining the exchange patterns with other major economies. As the national economies of the Asia-Pacific region will remain the most dynamic ones and are currently undergoing their own major transformations, they will be chosen as points of reference.
Organisation:
The workshop « The EU Green Deal and External Policies: European Perspectives and Implications for Asia-Pacific, the case of India » is a joint project by ESSCA Shanghai, the Konrad-Adenauer-Stiftung Berlin and IMT Ghaziabad, India.
This event is a part of a research fellowship on the topic of "The European Green Deal – Perspectives for EU-Asia Relationship" conducted by Prof. Sonia Chikh M'hamed and generously funded by the Konrad-Adenauer-Stiftung, Berlin.
The research project aims at contributing to the role of the European Union as a normative power in shaping multilateral frameworks to achieve the goals laid down in the COP21, the 2030 Agenda, and other global agreements on sustainable development.
This workshop will map the potential areas of cooperation between the EU and India within the framework of the EU Green Deal.
The meeting is free of charge and will be held via ZOOM. Meeting ID and password will be available after registration:
Feel free to download the full programme in PDF format here.
For further information, please contact Professor Dr Sonia Chikh M'hamed (Sonia.chikh@essca.fr)
Main research questions of the online workshop:
How is the E.U.'s green deal perceived in your country?
Where do you see fields of cooperation both in politics and business? Are their any concrete examples?
How can a substantive dialogue between both 'worlds' be established?
Is the current framework of bi- and multilateral trade agreements etc. well designed to achieve the goals of the Green New Deal?
What is the understanding of sustainable development in your country and Asia, and what lessons can be learnt from that?
Summary agenda:
14:30 IST/11:00 CET : Welcoming remarks
Dr. Peter Hefele, Director Asia-Pacific, KAS, Berlin
Professor Dr. Prana Biswas, Dean Research, IMT, Ghaziabad
14:45 IST/11:15 CET : Introduction into the topic
Professor Dr. Sonia Chikh M'hamed, ESSCA Shanghai, KAS fellow, Berlin/Shanghai
14:50 IST/11:20 CET : Session 1 – Green Transformation in India: Achievements and Challenges
Moderated by Dr. Annapurna Mitra, ORF, Mumbai
Statements by Dr Prodipto Ghosh, IAS, Delhi and Dr. Ashish Agarwal, IIM, Lucknow
Discussion and coffee/tea break
15:40 IST/12:10 CET: Session 2 – Partners in Transformation – Potential for India-EU-Relations in the New Era of Green Deal
Moderated by Syed Nazarkat, Journalist, Founder and Editor-in-Chief of DATALeads, Delhi
Statements by Dr. V Rajgopalan, IAS, Delhi and Mr Hitesh Kataria, Director Sustainability, Mahindra & Mahindra, Mumbai
Discussion
16:20 IST/12:50 CET: Conclusions and next steps
Professor Dr. Shalini Rahul Tiwari, IMT, Ghaziabad
Professor Dr. Sonia Chikh M'hamed, ESSCA Shanghai, KAS Fellow 2020/21
16:30 IST/13:00 CET: End of Workshop
Reporting: Mauricia Paciello, Project Manager, KAS India