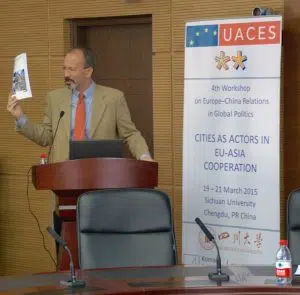 Following the successful yearly events organised since 2012 on topics like co-evolution, leadership and comparative regional integration, the 4th Workshop on Europe-China Relations in Global Politics focused on 'Cities as Actors in EU-Asia Cooperation' and took place at Sichuan University, Chengdu from 19 to 21 March 2015.
Speeches by Yan Shijing, Vice-President of the Sichuan University and Peter Hefele, Director of the Konrad-Adenauer-Stiftung's office in Shanghai, marked the start of the workshop, followed by an introductory session which welcomed French Deputy Consul General Adrien Cavey, as well as the three founders of the UACES Collaborative Research Network (CRN) on EU-China Relations, Professor Men Jing of the College of Europe, Dr Frauke Austermann of the International School of Management in Cologne and Professor Shen Wei of Lancaster University and ESSCA School of Management.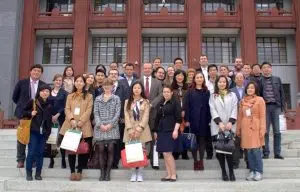 The Workshop covered four different themes on which researchers and policymakers shared their views and research findings: the role of cities in the future of international relations, creative industries, sustainable urbanisation and EU-China cooperation respectively. Detailed and concrete reports, research papers and policy reviews were presented and explained to the audience.
Maximilian Rech of ESSCA Shanghai rounded up the event with a summary of the main points and a retrospective overview of the four consecutive annual Workshops organised by the CRN. Finally, two young scholars, Gabriela Radu and Zhang Xingxing were presented with the UACES CRN Best Paper Award for their excellent contributions to the Workshop.
The Workshops on Europe-China Relations in Global Politics take place within the framework of the UACES Collaborative Research Network on EU-China Relations organised by ESSCA School of Management at Angers, College of Europe at Bruges and the Graduate School of Global Politics at Free University Berlin. The Workshop was kindly supported by Konrad-Adenauer-Stiftung, Shanghai and hosted by Sichuan University, Chengdu.
A complete and detailed conference report can be downloaded in PDF here.
The website of the UACES CRN on EU-China Relations can be found here.