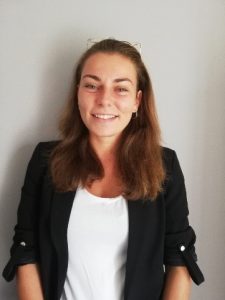 Contribution by Victoria Le Goudives,
3rd-year student of ESSCA's Bachelor in International Management.
« In 2019, I spent a semester in Shanghai. This trip was my best experience so far. Going to the other side of the world, experiencing a culture very different from ours, was very enriching. Having lived in one of the richest cities in the world, one forgets what's around. There are many contrasts in China – next to a luxurious building, you can find a shantytown. Beautiful cars, shops, buildings, clothes are the showcase of this city. But farther away from that showcase, in the provinces, we realize it is not entirely representative. »
[hr]
Religion and culture are dominant issues in most society. Each nation, each government and each cultural group should enjoy freedom in these fields. In some countries, however, this principle of human rights is being questioned every day. It seems surreal that in the 21st century, there are still concentration camps. Freedom of expression and of religion is a fundamental right, but unfortunately, this does not seem to be the case yet for China.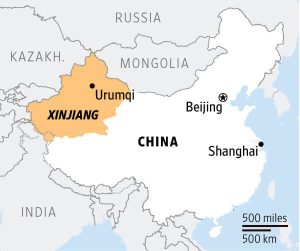 The Chinese government controls the Xinjiang region, located in northwest China, with ubiquitous military security. In this province, the government has put in place political repression to fight terrorism by carrying out deradicalization and so-called "professional training" in internment camps. In these concentration camps, 1 million people, mainly Muslims, are reportedly imprisoned.
The Uyghurs are Turkish speakers and Muslims living in the Xinjiang Uyghur autonomous region. This territory is equivalent to 2,5 times the surface of France. China has a strong interest in Xinjiang, because it is the country's largest region with a strategic position of openness to the Central Asia's neighbouring countries. Its rich soils contain the country's largest reserve of oil, gas and coal. Billions of euros are at stake in this province, resulting in a high level of militarization on the territory (1 in 3 Chinese people in the region work for the security forces).
Uyghurs are an ethnic minority that has a strong sense of their own culture, language, tradition and religion. There are Islamists within this ethnic group, an ultra-minoritarian group represented by the PIT (Islamic Party of Turkestan) and fighting for the independence of this community, using violent means.
Such ethnic riots triggered the political reaction by the central government. In July 2009, in Urumqi, the capital of Xinjiang, the Uyghurs and Hans clashed in the streets, killing nearly 200 people and injuring about 2000. Since this confrontation, the Chinese government has decided to strengthen security in the region. Between 2013 and 2014, China faced terrorist attacks, with more than 400 people dead and 460 injured, including in Beijing (on Tiananmen Square), Kunming, Urumqi and Canton. Terrorism has become a national threat to China.
The question is whether the response is proportionate and adequate. Security measures in Xinjiang are today the most impressive in the world. Police and military officers criss-cross the territory with police stations every 300 metres in the cities. Technological tools are deployed through social network monitoring and integrated facial recognition camera systems. Data is recorded and stored to detect non-compliant behaviour decided by the authorities.
In the spring of 2017, centres for transformation through education, called re-education camps, were opened, where hundreds of thousands of people are trapped. Inside these camps, detainees are undergoing political re-education to become "good Chinese citizens". The learning of communist patriotic songs, the thought of Xi Jinping, and exercises in self-criticism are at the heart of this brainwashing and indoctrination. The Uyghurs are reportedly prohibited from speaking their language, practising their religion and respecting their traditions, under penalty of punishment or torture. "The China Tribunal", an independent body reporting on the respect for human rights in China, denounced at a meeting at the Office of the United Nations High Commissioner for Human Rights, that China is committing a crime against humanity by taking organs from living and interned persons. This organ collection would serve as an organ reservoir for the country's hospitals.
In July 2019, some 20 countries, mainly Western nations, sent a letter to the UN denouncing the internments of the Uyghurs. Beijing responded to this letter by announcing that 50 other states, mainly Muslims, supported China for its policy in Xinjiang and for « its achievements in human rights ».
China is a powerful country, with which we must cooperate politically and economically, but we must not forget the values of human rights. Indeed, its inhumane policy towards the Uyghurs goes almost unnoticed in the world and triggers no concrete reactions. Beijing therefore continues its fierce repression of this community, being "free" to do what it wants.
Why is the Muslim world not responding to the Chinese government's persecution of this community? In many Muslim countries, opinion is controlled. Knowing that some of these countries are under a dictatorship and that freedom of expression is monitored, individuals will not demonstrate in the streets, as Westerners do.
Does this inhuman policy work in security terms? According to the Chinese government, the number of attacks has decreased since 2015. But this policy can also have two opposite effects in the coming years. The first is the increase in radicalism and hatred towards the Hans, who are the vast ethnic majority on the Chinese territory, and the second is the development of solidarity and mobilization of Uyghurs abroad, but also of Muslim countries.
On 13 December 2019, a public figure decided to speak out on this subject. It was Arsenal footballer Mesut Özil, a German national of Turkish origin. On his Instagram account he published a message describing the Uyghurs as "warriors resisting persecution". Instantly, Chinese football fans burned Arsenal jerseys and asked the club to fire Özil. Public television CCTV (China Central Television) cancelled the broadcast of Arsenal's Premier League match against Manchester City on Sunday. The media criticised Özil's comments as "disappointing" and the Chinese Football Association told local media that it was "outraged and disappointed". For the Chinese, these are false accusations and a call for jihad against China.
Mesut Özil's Instagram post will have no immediate effect. But if public figures with great influence speak out about this situation of the Uyghur population in the media, it will at least raise awareness of the fierce repression the Chinese government is carrying out against this community.
[hr]
This student blogpost was produced within the framework of the 3rd-year module « International Issues and Challenges » of ESSCA's Bachelor in International Management, following a course design developed by the EU-Asia Institute. The opinions expressed are of course those of the author and do not necessarily represent the views of the institute.