On 30th January a research seminar was held in Angers, at ESSCA campus, proposed and organised by EU*Asia Institute in cooperation with Family Business Institute of ESSCA.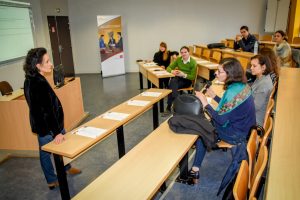 This seminar, which was held in French, was the occasion for two researchers of ESSCA, Dr Emmanuelle DUTERTRE and Dr Elizabeth POUTIER, to present their research as a part of social and solidarity-based economy, an important expertise of the EU*Asia Institute.
Indeed, this event was very rich and interesting through its two different topics:
–Visions of digital transformation of an industry to its real transformation: the case of automobile repair and maintenance, presented by Emmanuelle DUTERTRE, and co-written by Bernard JULLIEN. Dr DUTERTRE offered a clear presentation on the automobile sector and then explained the impact of the arrival of digitization in the dealerships and workshops.
–Family business succession: the case of successions within the vineyards of in Savennière, presented by Elisabeth POUTIER, and co-written by Jean-Pierre NOBLET. Dr POUTIER introduced the role of the new generation of winegrowers who inherited the family vineyard. The presentation showed the transmission of knowledge and tradition, and their desire for innovation.
This seminar was the occasion to present the research of the EU*Asia Institute within ESSCA and outside of the school, to a public of researchers coming from different field of research. The participants showed a big interest to the work of the speakers through broad and constructive discussions with complementary opinions after each presentation.
Here are some additional photos of the event: