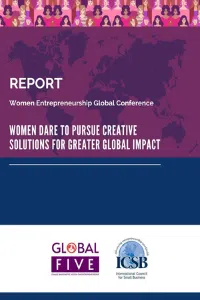 This report reflects the proceedings of the Global Women Entrepreneurs Conference, held in November 2020. The aim of the conference was to bring together public and private practitioners, leaders from around the globe, to share their challenges and obstacles, experiences, and drive discourse and policies of relevance to women within the entrepreneurship ecosystem thus ensuring the creation of a collective enabling environment. The conference was hosted by the International Council for Small Business (ICSB) and organised by the Global FIVE Network.
The global spread of COVID-19 poses many challenges on a magnitude that will leave long-term effects on all of society. Despite the many achievements continually being made in the realm of entrepreneurship, the crisis has greatly disrupted international industrial activity and altered the demand for certain skills. With different industries being affected in many ways, persistent inequities remain a major concern as the pandemic forces its new norm. Throughout 2020, the International Council for Small Business (ICSB) has focused its efforts on supporting its network of entrepreneurs as they navigate this new reality through educational opportunities and shared learning experiences.
The ICSB hosted a suite of events to support entrepreneurship November 16 and 17, 2020. The Womenpreneurs Global Conference was among these events; designed to bring together public and private practitioners, representing global leaders. These women shared their experiences and challenges in order to drive discourse on relevant policies for women within the entrepreneurial ecosystem. This discourse ensures the creation of a supportive and equitable collective environment.
This first WE (Women Entrepreneurs) Conference was inspired by an ICSB Spanish webinar entitled "Women entrepreneurship, which challenges and barriers?" presented by Inés Gabarret and moderated by Analia Pastran. At that time, Diah Yusuf, from Indonesia called ICSB requesting an English version of this webinar. After that, a group of women met and started organizing the first WE Conference. These women are María Fernanda Andrés, from Argentina; Shoroke Zedan, from Egypt; Vicki Stylianou, from Australia; Diah Yusuf, from Indonesia, Analía Pastran, from USA and Inés Gabarret, from France.
After 65 years of history of ICSB, this was the first global conference designed by women for women, to showcase concrete actions taken to support women empowerment around the world under the slogan "Women Dare to Pursue Creative Solutions for Greater Global Impact".
Female entrepreneurship grows every year all over the world. Survival rates of companies established and managed by women are higher than companies set up by men. However, when talking about entrepreneurship it is the male example that takes precedence. There is a lack of female role models in entrepreneurship. The conference showcased real stories of women entrepreneurs, allowing lessons learnt to be shared, and the discussions supported a better understanding of the barriers these women overcame with an aim of improving the existing ecosystem.
The conference introduced the principal concepts frequently identified in research in relation to female entrepreneurship within specific industries as well as other social factors. This document is a synthesis of panelists' presentations regarding the most important issues discussed during the sessions. It is a compilation of advice and recommendations, lessons learnt from real life stories of women entrepreneurs in COVID-19 pandemic.
Authors:
Analia PASTRAN, USA - Smartly, Social Enterprise on the SDGs
Diah YUSUF, Indonesia - Indonesia Prima
Inés GABARRET, France - ESSCA School of Management / Lrequoi, UVSQ, Paris-Saclay University
Mariie Fernanda ANDRES, Argentina - Aceleradora Litoral
Shoroke ZEDAN, Egypt - Envi Sage Consulting