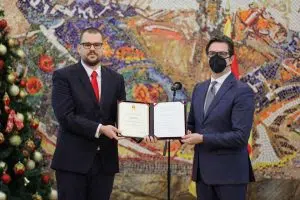 What better way to end the year 2020 than to receive, from the hands of the President of the Republic, an award for « Best Young Scholar in the Social Sciences »?
This is what happened to Dr. Anastas Vangeli, a Research Fellow at the EU*Asia Institute and an Adjunct Professor at ESSCA's Shanghai campus on 23 December, at a ceremony chaired by the President of North Macedonia, Stevo Pendarovski .
The award, an acknowledgement for Anastas' outstanding research on contemporary China, was the result of a competitive process, conducted by an inter-disciplinary commission of leading North-Macedonian scientists and professionals, among a pool of candidates consisting of the most successful scholars in the social sciences under the age of 35.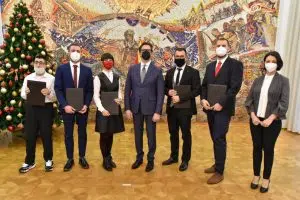 Anastas Vangeli is the inaugural recipient of the award, which is part of a broader endeavor to provide recognition for the achievements of young North-Macedonians. As part of this initiative, seven other young scholars and professionals in different areas in the sciences and the arts received awards for their achievements in their respective fields, too.
The EU-Asia Institute is deligted to see its members research work recognised in this manner, and sends its most sincere congratulations!