On May 18th, the Colloquium 2018 – « Silk & Belt Roads » was held in Shanghai University. The event is promoted by the Italian Scholars Association in China, the Emerging Economies Committee of the Shanghai Society of World Economy and the Innovation and Developments Centre of Shanghai University.
More than a hundred people attended the colloquium, coming from academia, research institutes and businesses.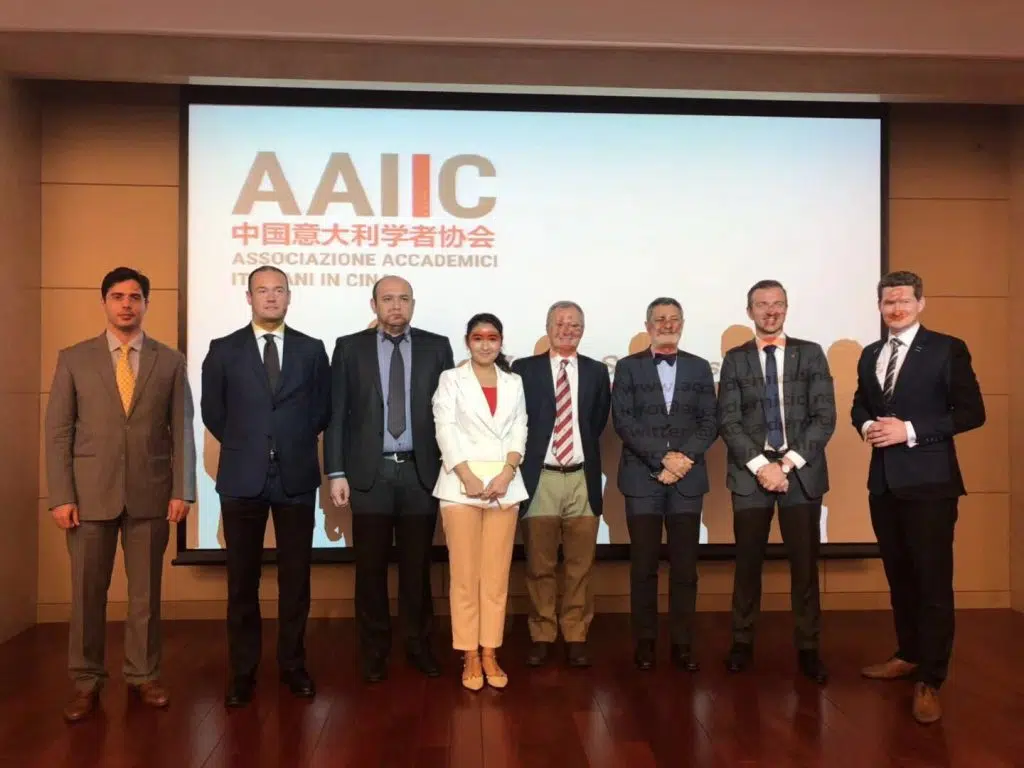 Please find a brief summary of the presentations below:
He Shuquan – SSWE Secretary General and Shanghai University
SSWE Secretary General and Shanghai University
After giving a presentation of Shanghai University, Professor He presented an introduction and a framework about Xi Jinping's Belt and Road Initiative, giving his insights about cooperation opportunities and future trends of the BRI.
Alberto Manai – Director of Italian Cultural Institute in Shanghai
Introduction of Italian Consulate in Shanghai
Mr Manai welcomed the guests to the Colloquium and gave a presentation on the Italian Consulate in Shanghai and their links with the Belt and Road Initiative.
Ivan Cardillo – AAIIC Chairman
Introduction of the Scholars Association
Mr Cardillo introduced the Association of Italian Scholars in China. Founded in 2015 has a presence in more than 10 cities across China, the AAIIC aims to gather and spread scientific and academic information between Italian and Chinese universities.
Ulugbekov Azizbek – Consul of Uzbekistan in Shanghai
Economic opportunities in Central Asia
Mr Azizbek gave the assembly a thorough presentation about history, economics and culture of Uzbekistan. His speech was illustrated by videos about the country.
Davide Cucino – Chairman of China-Italy Chamber of Commerce
Maritime Silk Road
Mr Cucino introduced specific features of the Maritime Silk Road by linking historic and economic data as well as analysing the last project to date: the Polar Silk Road.
Carlo D'Andrea – Chairman of the European Chamber in Shanghai
Introduction on trade China-Europe
Mr D'Andrea introduced Europe-China historical relations to present economic, trade and political issues along the Belt and Road Initiative.
Lorenzo Riccardi – Shanghai University, RsA Asia
Managing Partner of RsA Asia in Shanghai
Mr Riccardi introduced elements of International Taxation within the framework of the BRI. He gave examples of the impact of tax planning across Asia, Europe and Africa in order to optimize investment opportunities along the Belt Road Initiative.
Michele Geraci – China Economist and Professor of Finance, NYU
M&A China-Italy
Through a video presentation, Professor Geraci developed the "Geraci Plan", giving insights on how the European Government should interfere in regards to Chinese M&A investments in Italy.
Roberto Donà – Xi'an Jiaotong Liverpool University
Professor at XJTLU
Through an assessment of the Globe connectivity, Professor Donà highlighted the main characteristics of the BRI and developed opportunities in various sectors of the industry.
Maximilian Rech – Director ESSCA School of Management, Shanghai
Power & Coopetition along the BRI
Professor Rech displayed a research study on investments along the BRI, linking the expertise of various actors and demonstrating his method by a case study on railway construction in Malaysia.
Stefano Beltrame – General Consul of Italy in Shanghai
Conclusion and relationship Italy-China along the BRI
Mr Beltrame ended the seminar by sharing his views on the Belt Road Initiative. Mr Beltrame shared comments based on his expertise on history, diplomacy and geopolitics to share ideas on BRI meaning.
The reference:
AAIIC. (2018). Colloquium Approfondimento- "SILK AND BELT ROADS." Retrieved from https://accademicicina.org/2018/05/22/colloquium-approfondimento/