7 June 2020
Report by Maximilian RECH & XIANG Jie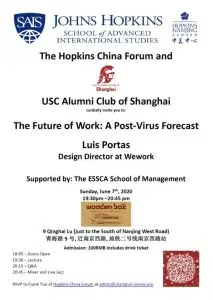 In order to preview what might be your future work environment, it helps to know the history of office design and the current best practices in creating office spaces. This is exactly what Luis Portas, Design Director at WeWork, offered his audience at the latest talk jointly organised by ESSCA Shanghai and The Hopkins China Forum on Sunday 7 June 2020. He started with a quick review of the history of architecture, from the Age of Enlightenment to the era of Artificial Intelligence (AI), presenting milestones for each period of time and explaining how they affected workplaces. On the basis of this recap, he set forth the ideas and tendencies that influenced the design of the office of the future.
History and evolution of office design
The first reference to designing and building specific workstations stems from as early as 1700, and until the 19th century, the workplace was influenced by an era of rapidly developing technology. Offices were conceived as open office spaces, with mass production being the goal. The design of the workspace imitated the factory floor and repetitive tasks reproduced the Taylorist approach to productivity and efficiency. At the same time, open offices that do not necessarily allow for silence, but instead foster collaboration and interaction continued to exist. As Luis Portas pointed out, both principles have characterized office design until today.
Human-centred office design
In 1939, the Johnson Wax Headquarters, designed by Frank Lloyd Wright, was erected in Racine, Wisconsin (US). It is worth noting that the great workroom in this building was conceived as a very large open space similar to contemporary office design. The room was lit with plenty of warm light of around 4000 Kelvin instead of the bright white light usually seen on factory floors. Natural lighting can make people feel more comfortable and increase well-being and productivity. This is the moment that architects and interior designers became more focused on human-centred design.
Portas went on to describe how after World War II, German architects began to focus on the development, layout and arrangement of office furniture. The concept of 'function furniture' was applied to the design of the workplace. Designer Robert Propst invented the first 'Action Office' which subsequently evolved into the 'cubicle office' furniture system that is used until now. In other words, the cubicle system was initially conceived to provide the human being with a better office. Portas referenced an article by Wired that has dubbed this development the "Accidental Cubicle Farm" (Saval, 2014).
Recent and Future Office Design
In contemporary times, with the advent of the internet and personal computers, a lot of start-ups and big tech companies like Google introduced many components into office design to make people feel even more comfortable and basically feel like they are working out of their living room at home. This tends to blur the distinction between work and leisure and ultimately encourages workers to spend more time in the office. In China, this has led to the term '996', or working from nine o'clock in the morning until nine o'clock at night, six days a week. The New York Times reported, however, that Chinese tech workers no longer appreciate it.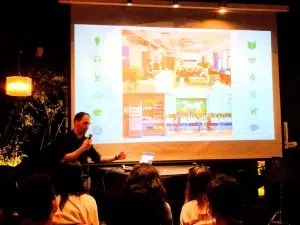 In the future, companies may yet again change the way they organise office space. In light of the Covid-19 pandemic, almost 73% of the workers believe that they can work from home. In addition, the amenities of ambient lighting, living room atmosphere, pets in the office, comfortable furniture and broadband internet connection, may need to be complemented by fundamentally new ideas to organise personal space with approximately 2 metres of social distancing. This would allow for appropriate resilience given the danger of similar pathogens spreading in the future. Therefore, the future office will be much more flexible, adaptable, and it will feature advanced technology such as thermal cameras, artificial intelligence and big data server centres that replace outsized underground car parking lots in each and every single office tower.
---
Further reading:
---
Luis Portas is Design Director at WeWork Greater China. With a team of over thirty design professionals, his focus on new technologies and design, combined with disruptive solutions, aims at shaping the office of the future. Luis' directive is to constantly innovate the workplace through human experience, storytelling, and design. Luis has an extensive architectural experience around the world focused on building up teams for success in challenging, hyper-growth environments. Prior to joining WeWork, he worked for Atkins as Senior Architect, focusing on mixed-use and commercial developments in Shanghai and Hong Kong, and elevating retail brands with BIM and standards implementation. Prior to this, he was the co-founder of Pormenor Arquitectos in Portugal, providing bespoke architecture and design consultancy services. He started his career in Finland working at ArkkitehtiKonttori Petri Pussinen Oy. In addition to being a Portuguese registered architect, he is a part-time cinematographer and fiction writer.
---
Featured photo by Kate Sade on Unsplash