The European Union seems to become increasingly serious about sport diplomacy. That's at least what the big high-level event organised by the Portuguese Council Presidency on 3/4 June in Lisbon suggested. Four intensive sessions about the role of sport diplomacy in external relations, « diplomats in tracksuits », grassroots diplomacy, and sport in development policy. And the sport community seems to become increasingly interested in the EU's potential in the field. The participation of UEFA president Alexander Ceferin and IOC President Thomas Bach, together with other leaders of sport governance bodies are testimony to this.
To a certain extent, this is very much in line with the dynamic triggered by the work of the European Commission's High-Level Group on Sport Diplomacy. I was delighted to be part of this temporary think-tank that had the opportunity to come forward with concrete recommendations on how to make the best possible use of sport in the European Union's external relations. And I am very satisfied to see that our work seems to have had a genuine impact not only on how the entire thematic has unfolded but also on very concrete policies like the increased access of the ERASMUS+ programme for neighbouring candidate countries, to name only one example.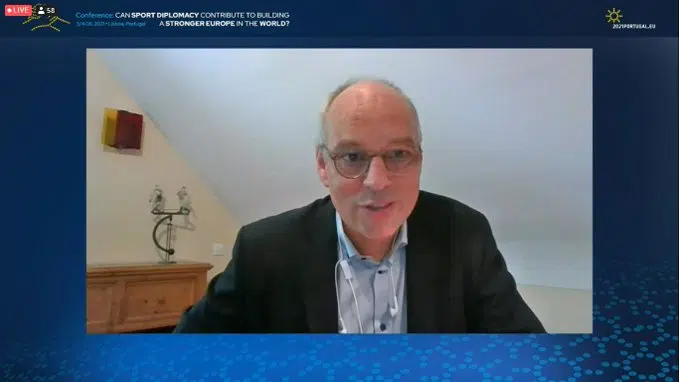 As a keynote speaker at this conference, I had the occasion to sum up these recent achievements and point out the numerous assets that the EU actually possesses in a field that is no longer the preserve of traditional inter-state diplomacy but a complex marketplace of non-state actors on all levels, from the local to the international. Without forgetting, of course, that European sport diplomacy is still in its infancy and will need time to develop and to be mainstreamed into the Union's foreign policy mindset. Or, as Carole Gomez from IRIS put it: « un uncut diamond we need to polish » (clearly the best metaphor of the day).
---
My keynote can be downloaded here: https://www.essca-knowledge.fr/wp-content/uploads/sites/20/2021/06/Keynote-Albrecht-Sonntag.pdf.
More on the still ongoing ERASMUS+ project on sport diplomacy here: https://www.essca-knowledge.fr/en/eu-asia-institute/projects/promoting-strategic-approach-eu-sport-diplomacy/
And here's a recent blog post on the 50th anniversary of the famous Ping Pong diplomacy: https://notepad.ideasoneurope.eu/2021/04/01/50-years-on-no-chance-for-a-new-ping-pong-diplomacy/