The third meeting of the European Think Tank Network on China (ETNC) was not only a great success, thanks to our generous host the Mercator Institute for China Studies (MERICS), but also a major step in the network's development.
ETNC is a gathering of China experts from a selection of European think tanks and research institutes that is devoted to the study of Chinese foreign policy and EU-China relations. At its inaugural meeting in Brussels in November 2014, the network members decided to meet every six months in a different capital. The second meeting in Madrid was now followed by the third one in Berlin, on 11-12 November 2015.
The EU-Asia Institute of ESSCA was again represented by Tamas Matura from the Budapest campus, as well as by Miguel Otero Iglesias, senior analyst at the Royal Elcano Institute in Madrid, co-founder of ETNC and research associate at the EU-Asia Institute. It brought together participants from almost twenty EU member states to discuss the strategic perspectives of China's market economy status and the evolving role of Chinese think tanks in foreign policy and public diplomacy.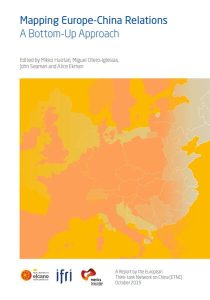 At the same time delegates had the opportunity to applaud the publication of their first joint project, a comprehensive briefing on bilateral ties: 'Mapping Europe-China Relations – A bottom-up approach'.
Tamas, who signed the chapter on relations between Hungary and China in this report (p. 41-45), had another reason to celebrate: ESSCA Budapest was selected to host the fourth ETNC meeting in April 2016.
To download the ETNC report, please click here.