Some future China experts from the China-Europe Business (CEB) double-degree programme travelled to Seoul in South Korea to participate in the Second Young Leaders Forum organised by the Konrad-Adenauer-Stiftung between 3 and 5 June 2017. The event brought together professors and students from South Korea, Japan and China.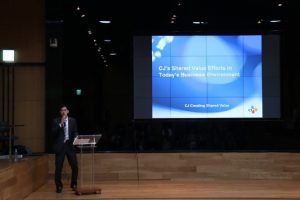 By Alice Verguin 
The main purpose was to discuss the key challenges faced by these three Asian countries: immigration, demographic change and economic sustainability. What are the economic outlooks in each of these countries and what are the perceptions on reunification of South and North Korea? How could Asian countries face the challenge of immigration coupled with an ageing population? How should they react to the impact of the United States' withdrawal from the Paris Climate Agreement? The principal objective was to exchange perspectives and discuss potential solutions for tomorrow's world. The three-days forum combined discussions and cultural exchange.
However, the purpose of this forum was not only to exchange ideas but also discover what is set in practice by Korean companies. This is why the participants also got the opportunity to visit CJ, an industry conglomerate – or "chaebol" – active in sectors as diverse as food and food services, bio, pharma, home shopping, logistics, entertainment and media. CJ takes sustainability issues at heart and implements several programmes such as the "Bright Girls, Brighter Future" partnership with UNESCO for a wider access to education. In addition, CJ promotes cultural diversity by supporting young talents to express their creativity in theatre, screenplay and music sectors.
One last case study that resonated with the students and the theme of the Young Leaders Forum related to innovative work-life balance. In view of the rapid demographic change in Korea, CJ engages the ageing workforce by providing seniors with jobs in the delivery of eCommerce packages in Korea. Beyond the Corporate Social Responsibility aspect of giving a purposeful job to retired Koreans, this chaebol was able to reduce turnover, improve customer satisfaction, and make delivery services more profitable while fulfilling its obligation of providing a better work-life balance for its employees.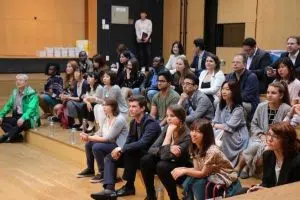 More than solely serious topics and visits, however, this forum was the occasion to bring future leaders from Japan, South Korea and China together to build friendships and better understand the others' point of view and context behind various immigration and economic policies.