Students from the ESSCA Shanghai Summer program and the China-Europe Business (CEB) double-degree program had the opportunity to travel to Tokyo in Japan to attend the Third Young Leaders Forum organised by Konrad-Adenauer-Stiftung and ESSCA School of Management between 20th and 22nd of June 2018. Like the previous editions, the event brought together young leaders and professors from Universities in Japan, China and South Korea.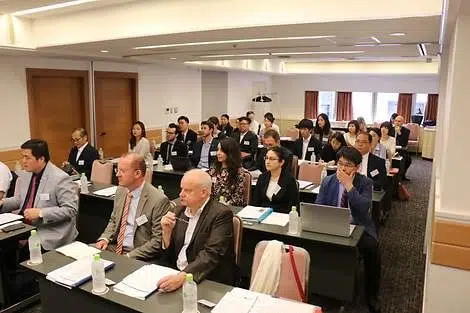 The attendees from Deakin University, ESSCA School of Management – Shanghai, Hanyang University, Harvard Kennedy School, Kobe University Pukyong National University, and University of Tokyo were expected to discuss for two days this year's topic – 'Energy Security and Climate Change in East Asia – Jointly Getting on Track for a More Sustainable Future'. Divided in two sessions – one about Energy Security and one about Climate Change – the forum's purpose was to ask different questions to the participants of all three countries and engage them in thorough discussions.
What is the current energy and resource security situation of the three countries? What kind of challenges could appear with regard to energy and resource security and what institutions should eventually mediate differences between countries in East Asia? What are the most severe threats associated with climate change for the three countries? Is there any governmental strategy to fight greenhouse gas (GHG) emissions as defined by the United Nations Framework Convention on Climate Change? Of particular importance to the Young Leaders was the role that companies and supply-chain partners should play in contributing to mitigating climate change. All these guiding questions had the purpose to engage in a cultural exchange and deep discussions on the topics at stake. Initial keynote presentations introduced each topic and acted as thought-provoking starting points to prepare the ground for the discussions that ensued in small working groups mixing the young leaders from different disciplinary backgrounds. ESSCA was represented by a number of students as well as Dr. SHEN Wei, Jean Monnet Chair, EU-China Relations at ESSCA School of Management, Angers and International Relations and Associate Pro Vice-Chancellor at Deakin University, Melbourne, and Dr Sonia CHIKH M'HAMED, Assistant Professor of Strategy and International Management, Department Strategies & Markets, ESSCA School of Management – Shanghai.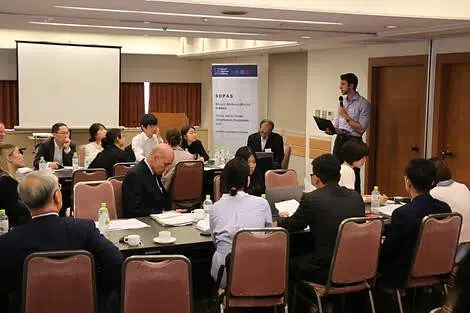 From the discussions, and with precious insights from the participating professors, many thoughts and propositions were expressed. It was recognised that the three countries are affected differently by climate change, but that their energy challenges are similar. Unfortunately for the Asia-Pacific region, the most vulnerable countries are also the least prepared. Education remains the best way to get citizens from China, Japan and South Korea to mitigate the effects of climate change and reduce their respective energy consumption.
There is still some debate about whether it is better to pursue a top-down approach (initiatives from the government) or a bottom-up approach (initiatives from the people) to mitigate climate change. However, all participants agreed that the industry had a strong role to play by promoting innovation and tackling their massive energy consumption and GHG emissions. Energy efficiency and improvements in the value chain might introduce new business models based on a sharing economy approach or a social enterprise economy. This could be embedded by a regional approach to these challenges. In the end, the return on investment will always be the principal industry driver, and therefore good incentives will be the key to a successful transition towards sustainable practices.
Ultimately, the different working groups had the last day of the forum to work on their respective policy papers. The most innovative insights from these policy papers will be used by Konrad-Adenauer-Stiftung to formulate recommendations to the three governments. Nevertheless, more than a fruitful exercise of reflection, this forum was an effective way to build relations between young leaders from China, Japan and South Korea. Having the opportunity to exchange and understand each and everyone's point of view is precious and can significantly contribute to the future interactions between the three countries.
For further information about the last Young Leaders Forum in Seoul, Korea you can visit the website of the ESSCA EU-Asia Institute.
Please visit the website of Konrad-Adenauer-Stiftung to find out more about their activities in Japan and around the world.
Authors: Jean-René BEAUCHEMIN with cooperation of Maximilian RECH and XIANG Jie.