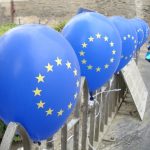 Sous le soleil du dimanche de Pâques, une trentaine d'Européens souriants ont été au rendez-vous fixé sur la Place Sainte-Croix au centre-ville d'Angers pour partager le message humaniste de Pulse of Europe : une Europe unie se construit sur des idéaux de paix et d'amitié, et par les temps qui courent, cela mérite d'être rappelé.
Angers n'a pas été la seule ville française à se joindre ce dimanche à cette initiative apolitique mais résolument pro-européenne, partie d'Allemagne il y a quelques mois et qui mobilise aujourd'hui chaque dimanche des milliers d'Europeéns dans bientôt près d'une centaine de villes. A Amiens aussi, une première rencontre a eu lieu.
A l'occasion des élections françaises, ce dimanche a encore vu de nombreux messages d'amitiés adressés aux Français en provenance de toute l'Europe. A admirer sur la Page Facebook de "Pulse of Europe France" et sur le compte Twitter @PoEFrance.
Un deuxième rassemblement est envisagé pour le dimanche de l'entre-deux-tours, le 30 avril.