The study 'Let it Grow? Social Representations of Nature on Contaminated Brownfields' by Marjorie Tendero and Dr Cécile Bazart has just been published in 'Urban Wastelands' in the series 'Cities and Nature' by Springer.
What does this chapter contain, what are the results of the study, and how was this research carried out? Thank you, Dr Marjorie Tendero, to have taken the time to answer these questions.
Can you give us a short preview of this work; its origins, its progress and the findings of this study?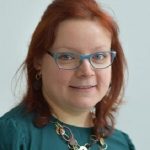 This study deals with the nature we find in polluted urban wastelands, which are areas left abandoned following the end of economic activity. These areas are found in urban zones, where the soil pollution from past activities is recognised. The study looks at how these areas and their vegetation are perceived; does the local population also see benefits in terms of biodiversity and public wellbeing in these areas? The theme of this research goes back to my
Ph.D. carried out between 2014 and 2017</> within the framework of research funding by
ADEME
at
Agrocampus Ouest
. ADEME carried out a call for tender for research concerning polluted wastelands and the assessment of their reconversion. For me, this subject was, and still is, an important subject, and one that I am still working on. This study is, therefore, a continuation of my research. In this particular piece of work, I wanted to analyse the perception people have of a polluted wasteland, in other words, do people see these areas as natural, or just polluted land? In order to do this, I carried out new analyses of the corpus collected during my thesis, underlining the importance of vegetation and nature.
In 2013, the year of my Ph.D., there were 6,500 polluted or potentially polluted wasteland sites requiring public action. About one third of these were polluted industrial wastelands.
The act of converting a wasteland into a useful area (e.g. housing, park etc.) does not necessarily change people's perception of that area. For example, a polluted wasteland that has been cleaned up and then renovated can remain stigmatised due to its past pollution. This can also be seen in terms of land value. This is the case for people, organisations and local authorities. It often needs 10, 20 or 30 years for the perception of a site to change.
One concerns people's satisfaction with the management of polluted soils.
The other deals with their understanding and representations of polluted soils.
---
---