An event at the Professional Club of the Budapest Campus
27 January 2021
Eurasia has always been an important region in the world economy and owing to the recent rise of a couple of Asian countries it is bound to attract even more international attention.
The geopolitics of this region were on the agenda of the most recent event organised on 27 January 2021 by the Professional Club of the Budapest campus of ESSCA School of Management. An extensive traveller in Europe, Russia and Asia, and currently a visiting professor at ESSCA Budapest, Dr Szabolcs Pasztor delivered a presentation on "East or West? – Countries Facing an Evergreen Dilemma in the Eurasian Region".
The dilemma in question was illustrated through the economic and political influence on countries like Ukraine, Moldova, and Hungary exerted by the European Union, Russia, and China. Following an analysis of the intentions of the Eurasian superpowers, the different economic and political dependencies were compared. The presentation called our attention to the fact that we should not be misled by apparent political ties only, since economic relationships are also to be taken into consideration.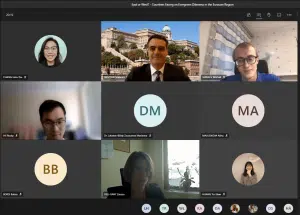 As always, questions abounded on the chat and produced a lively discussion.
---
The Professional Club of the ESSCA Budapest Campus was established in 2018 with the objective of organizing interactive, professional events around topics that bring together students, professors, and staff members of the campus, but also interested colleagues and students from the school's partner institutions. Chaired by campus director Zsuzsa Deli-Gray, each event starts with a presentation delivered by an invited expert, followed by a lively discussion, usually in the form of an afternoon tea meeting. This time, due to the current sanitary situation, the event was organized online.
---
Featured photo: Jordan Ladikos on Unsplash