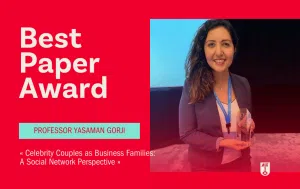 Yasaman Gorji, Associate Professor of Strategic Management at ESSCA, has just been awarded the 'Best Paper Award 2022' by the Family Firm Institute at the FFI Global Conference 2022 hosted by the Sloan School of Management (MIT).
This award is a major recognition of her research published with Michael Carney and Rajshree Prakash in the journal 'Family Business Review' entitled: 'Celebrity Couples as Business Families: A Social Network Perspective'.
The article looks at Hollywood celebrity couples from the 1970s to 2010 and the career opportunities that resulted from their union. The study reveals that, in general, marriage provides more career opportunities for both spouses: better information, better networking, more role offers. However, it appears that men benefit more on average from their wives' networks than vice versa.
Men benefit most from the situation, as they sometimes become producers or directors of films, while their wives mostly remain actresses.
---
The academic article can be found here: Gorji, Y., Carney, M., & Prakash, R. (2021). Celebrity Couples as Business Families: A Social Network Perspective. Family Business Review, 34(4), 365–384. https://doi.org/10.1177/08944865211050348