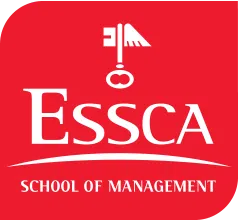 From 5th of June 5 to 4th of July 2019, we were pleased to welcome 26 students to our ANGERS SUMMER PROGRAMME 2019. Students came from all over the world: Taiwan, United States of America, Canada, Mexico, United Kingdom & Philippines.
They have been spending three weeks in Angers and one week in Brussels before the final week in Paris.
During the first three weeks, students gathered exclusive insights during the courses of French Culture, Intercultural Communication, European Economics & European Studies. Field Trips such as the visit of a French vineyard in the city of Saumur illustrated the importance of wine for the French culture.
Field trips to the UNESCO classified island of Mont St. Michel, two Loire Valley castles (one of them used to be the house of Leonardo da Vinci) and the coastal city of St. Malo gave all participants the opportunity to discover the region and learn more about the rich culture and history of France and Europe.
The landing beaches (Omaha and Juno Beach) in Normandy made history a real-world experience and illustrated the values the European Union was founded on.
The highlight of the Angers Summer Programme 2019 was without doubt the week in Brussels. Students saw how the European Union works in practice and gathered first-hand experience during the visits to the European Commission, Parliament & Council.
The last week in Paris, allowed students to explore the capital of France during a unique boat tour on the Seine river and concluded with the final farewell dinner in a typical French bistro next to the Opera of Paris.
The Angers Summer Programme offers a unique combination of discovering three different cities. Angers convinced the students with its charm, location to travel on weekends and the relaxed style of life. Paris impressed the students with its French way of life, its famous architecture and cultural opportunities. But the highlight was Brussels. Brussels is the capital of Belgium and home to many EU institutions. Here students were breathing the European spirit and had time to enjoy the famous Belgium fries and tasted waffles in one of the green parks of the city.
Five amazing weeks came to an end and we are looking forward to next year and hope to welcome YOU in 2020 to one of our Summer Programmes. It is an experience you will never forget!
"It has expanded my knowledge, as well as steered me in directions that I did not realize I was extremely passionate about, but now would like to learn everything about."
 (Student feedback 2019, United States)
"The Angers Summer Programme has shifted my opinion on Europe and the EU." 
(Student feedback 2019, United States)
"The Angers Summer Programme helped me to develop a broader mind-set in terms of international politics and economics."
(Student feedback, Philippines)
[cite]