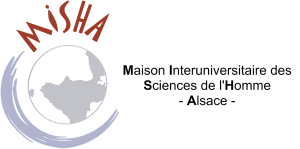 In 2015 William Gasparini, professor of sport sociology at the University of Strasbourg, was awared a Jean Monnet Chair for his 'School of European Sport Studies". It is one the first such chairs that are explicitly devoted to the interdisciplinary study of European integration and sport through the lense of the social sciences.
With the framework of his chair, Professor Gasparini organises an original series of conferences and seminars for different publics, which take place in the MISHA, the Alsatian House for the Social Sciences and Humanities. On the afternoon of Monday 8 February 2016 Albrecht Sonntag had the honour to inaugurate this new cycle of events with two seminars. The first one, targeted at master students in various study tracks related to sport, presented and discussed the hypotheses and results of the FREE Project . The second one had a more methodological focus: in front of a public of established researchers and doctoral students, Albrecht described and assessed the challenges of interdisciplinarity in the social sciences, drawing on his experience with the management of the FREE consortium, composed of researchers from a variety of disciplines and countries. He had the great pleasure to meet Alfred Wahl again on this occasion, who had been the pioneer of academic football research in France back in the 1980s. Alfred served as discussant to the presentation and recalled numerous examples of the difficulties linked to the collaboration between different disciplines and national schools of thought.
In the past, Albrecht has already had the opportunity to collaborate with Professor Gasparini in different publication projects, like a special issue for the Revue d'Allemagne. For 2016 he will contribute a chapter to a forthcoming book on Europe and sport, edited within the context of the new Jean Monnet Chair.
---
Albrecht Sonntag's presentation can be downloaded here.
More information on William Gasparini's Jean Monnet Chair can be found here.