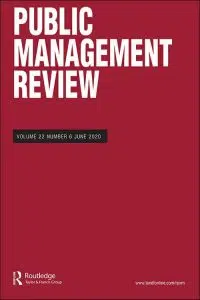 This call is issued in a context of worldwide uncertainty and enormous organisational and policy challenges raised by COVID19 crisis.
The purpose of this call is to edit a Special Issue about "Public service resilience post COVID19" in the leading, and highly rated, journal "Public Management Review".
The deadline for the submission of a 1,500-word summary to the guest editor for initial screening of topics and approaches is on 27th of November 2020. Authors are informed within 2 weeks.
We call for diverse and global scholarly contributions, theoretical and empirical, on post-COVID19 public services, reflecting on, but not limited to, the following issues:
How are public services responding innovatively to create a 'new normal' in the post-COVID world by reconfiguring following the 'system shock' of COVID19?
What have we learned about the nature of resilient and innovative public services as a result of COVID19, and how might this new knowledge influence our future responses to major pandemics/public health disasters?
What impact has the pandemic had for the future design of public services?
The longer-term effects of the policy measures during the COVID19 crisis (e.g. the lockdown) on equity
Public service resilience though digital infrastructure and digital inclusion
Public servants' and civil servants' individual resilience
The contribution of newer human learning systems, complexity and systems thinking to future effective responses to major public health crises, as well as to service design and governance network/institution building
Resilience built, maintained, or tested through citizen-state relationships
The limitations and requirements of political and administrative leadership in the face of scientific evidence.
The moving boundaries and interfaces between public sector, private sector and third sector post-CoVID19, as a result of non-public sectors contributing to public value creation during the crisis.
Comparisons between the service responses to CoVid19 in democratic and autocratic nation states, richer and poorer nations
For further detail please check this link.
Editors :
Masou Roula: Associate professor at ESSCA
Murdock Alex: Emeritus professor at the London South Bank University
Dudau Adina: Senior lecturer at the University of Glasgow