14 May 2020
China was the first country to suffer the effects of the virus but is also the first to experience a comeback.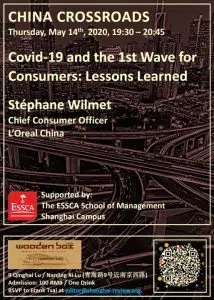 Against this backdrop, ESSCA School of Management Shanghai and China Crossroads invited Stéphane Wilmet, Chief Consumer Officer of L'Oréal China, on 14 May 2020,  to share his point of view about the rebound of plummeting sales in the consumer sector in China during Covid-19. At first Mr. Wilmet listed some examples: there was a recovery of more than 4% in the automotive sector, but there also was a Chinese ice cream producer that saw a 1000% increase in online sales despite being off season. Calling their product 'Chice Cream' or Chinese ice cream, they offer a moment of happiness at home. Moreover, Disney World Shanghai re-opened and was immediately sold out on the first day. In other words, the Chinese economy seems to be on a solid path to rebound after Covid-19. Wilmet went on to elaborate on key take-aways with regards to changed consumer behaviour in China.
Behaviour changes of consumers
According to Stéphan Wilmet, Covid-19 changed consumer behaviour in China in four important ways:
The first is that Chinese consumers are killing time at home because of the confinement. Which leds to the second change:
All activities moved to online.
What is more, Chinese went back to become rationally thinking consumers.
And lastly, consumers are preoccupied with health.
Beauty highlighted the wave of consumption in the confinement. L'Oréal's team monitored and engaged in social listening on beauty discussions at all times. In the early days of the Covid-19 outbreak, discussions on beauty dropped dramatically, but only 6 weeks later the online discussion bounced back. Skincare and haircare saw a brief impact and rapidly bounced back, but make-up discussions and sales were greatly affected because of mask-wearing and the social distancing. There were plenty of activities online and offline on hygiene recommendations. Specifically, in new communication techniques including live-streaming on Little Red Book (or XiaoHongShu – 小红书), Weibo (or 微博) and Tiktok (or  Douyin 抖音) etc. Beyond that, shopping festivals were another catalyst. Plenty of shopping festivals, such as fifth May (5 May or 55) shopping day in Shanghai or the Chinese digital Valentine's Day (20 May or 520) that was saw sales soar.
Reassurance towards consumers
Based on the statistics from L'Oréal, they still got nearly 6.4% growth during the confinement period as compared to 30% growth year on year that they normally register. The overall consumption went down but their market share has actually increased, and they were back to around 90% of the team as early as on 10 February 2020. Early on, L'Oréal decided to bet big on the upcoming Women's Day on 8 March 2020. Deciding to move a lot of stock from Europe over into China for this big sales day turned out to be a good decision and paid off. 'Reassurance towards consumers' is another conclusion from L'Oréal's research. Consumers want to interact with brands which can comfort them, especially during the outbreak of Covid-19. They trust and have a strong willingness to interact with big brands. It leads an established brand to capture more market share than smaller, less well-known brands on the Chinese market.
Go with the wave instead of against it.
"We look at the consumer instead of looking at the channel, it is true of omni-channel strategy but even beyond channels. We put the consumer into the centre" Mr. Wilmet told his audience. The coronavirus is like a wave of change. Consumers' behaviour may shift, new ways of interaction may come about, but the interest remains. "We never go against the wave, we go with the wave" and adapt as we go along, he emphasised. Stéphane Wilmet's talk attracted, and strongly interested, more than 50 attendees from various backgrounds related to marketing in China. Thanks to the testing practices that are currently in vigour in Shanghai at the entrance of all public events, the talk could be held, as shown by the photo, in almost normal circumstances.
Speaker's biography:
Stéphane Wilmet is the Chief Consumer Officer at L'Oréal China. He has over twenty-five years of experience in the cosmetics industry across Europe, Asia and North America in sales, marketing and brand management. American and French, he is passionate about China, where he has lived since the early 1980s as a student and worked since the 1990s onwards at different moments of China's transformation.
Further reading: