On behalf of the EU-Asia Institute, ESSCA's Budapest campus had the pleasure to host the Spring 2016 Meeting of the European Think Tank Network on China (ETNC) on 22 April. The main organiser Tamas Matura reports: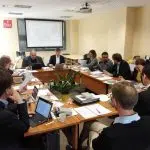 ETNC is a gathering of experts on China from a selection of prominent European policy research institutes. It is devoted to the study of Chinese foreign policy and EU-China relations and facilitates regular exchanges among participating researchers. ETNC strives to deepen the understanding of how Europe, as a complex set of actors, relates with China and how China's development and evolving global role will impact the future of Europe. During the network's discussions a decidedly 'bottom-up' approach was selected for the analysis of the EU-China relationship as well as for the bilateral relationships between the EU member states and China in order to generate a more complex perspective on the broader EU-China relationship.
Following the three previous meetings in Brussels, Madrid and Berlin, ESSCA had the opportunity to organize this fourth roundtable meeting in Budapest. The Chinese initiative of 'One Belt – One Road' served as the main topic of the discussion, since this large-scale endeavor is likely to have an impact on the entire European Union and the future of EU-China relations. Participants agreed to foster joint research on related issues in order to gain a better understanding of the Chinese idea and to prepare policy recommendations to decision makers.
Guangming Daily, one of the largest newspapers of China, reported on the event.
The next ETNC meeting will take place in Prague in October, 2016.