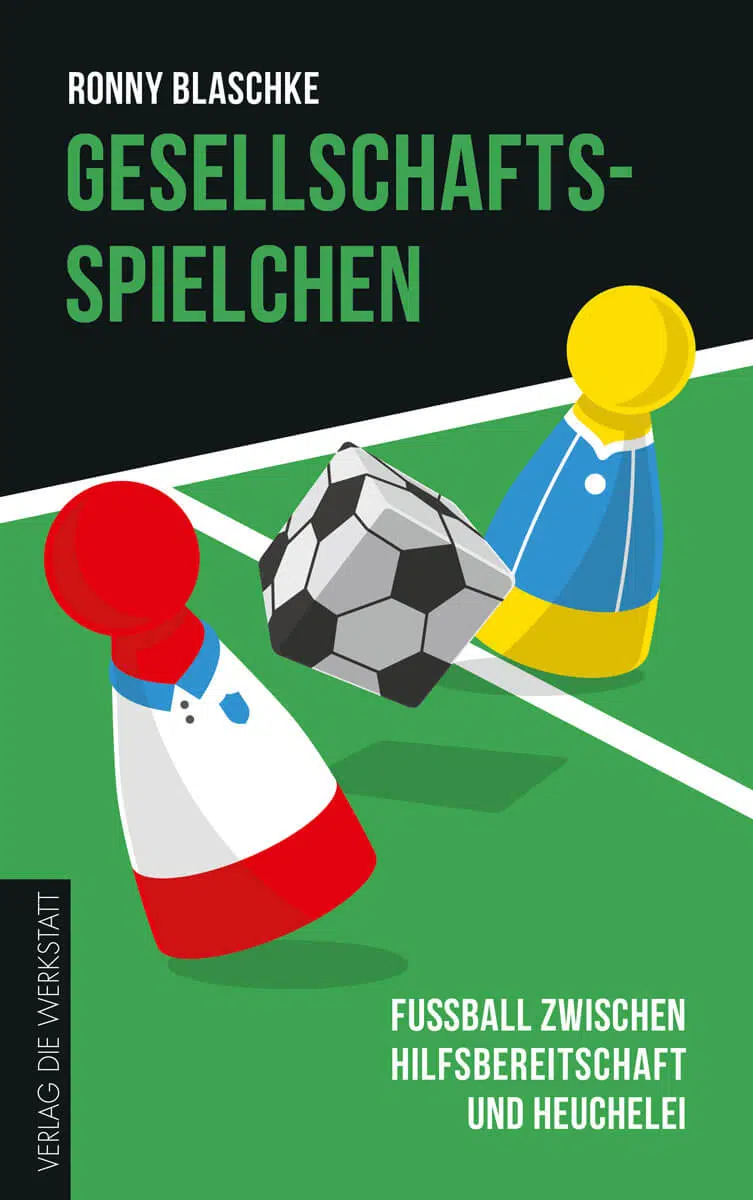 My football book of the year is, I'm afraid, written in German. It's the result of three years of field research carried out by Ronny Blaschke, a freelance journalist, independent in the best sense of the word. Its original title 'Gesellschaftsspielchen' (don't even try to pronounce this) may be literally translated by 'small board games' but probably best rendered by something like 'Playing the social game'. The book, released by the well-known publisher Die Werkstatt (Göttingen), is a journey through the social engagement of professional football and the multiple forms it can take.
Through a large number of encounters and field reports the book opens a large and, for the German case, rather exhaustive perspective on the vast variety of initiatives aiming – sometimes without knowing it – at implementing the principles of corporate social responsibility (CSR). Very often this happens in close collaboration with actors of civil society or with public institutions like municipalities, schools, hospitals or prisons.
Actions in favour of social inclusion or vocational integration, health and nutrition, urban development or even political education (such as increasing historical awareness or fighting against discrimination, for instance) – the sheer array of initiatives is more than impressive.
Except that…
Except that all this looks like an uncoordinated patchwork.
Except that the expenditures are not at all commensurate with the income.
Except that you can't help but wonder whether all this is based on a genuine recognition of social responsibility or rather designed as a fig-leaf.
Philanthropic sprinkling, that's what it is in its current state and scope. Efforts are no doubt sincere, but not based on a global concept or holistic strategy. And somewhat meagre: in Germany, the total proportion of voluntary CSR action by football clubs represents 0.61% of the overall turnover of professional football (€ 2.62 bn in 2015, one billion of which went into players' and coaches' salaries only). In England, to which the book's last chapter is dedicated, the proportion is hardly any higher: what is a total of € 78 million of CSR-related expenses in the largest sense (as communicated for the 2015/16 season, p. 269) compared to the 20 million that Manchester United presumably had to pay to Paul Pogba's agent (who credibly claims he is no longer even 'driven by money')?
The best thing about the book is its tone. Ronny Blaschke does not take the part of the prosecutor accusing the 'greedy football business' (as the French love to do). The approach he adopts towards his over eighty very different interlocutors and the organisations they represent is marked by an attitude of critical empathy that allows him to dig deeper without prejudice or bias. He thus manages to bring to light the schizophrenia (or cognitive dissonance, if you prefer) of professional football clubs, who are increasingly aware of the social and environmental responsibility as large SMEs moving millions around, while at the same time being almost relieved to see themselves as prisoners of the 'market mechanisms of global football' that offer such a cosy excuse, even for intelligent and open-minded people like Reinhard Rauball, president of Borussia Dortmund and the DFL (p. 165), who at the same time recognises that there is a problem if 'one fourth of TV rights revenues now go directly to players' agents'.
Blaschke's approach also reveals the sheer negligence of the media, so much occupied with staging and selling the spectacle that they become indifferent to its social stakes and impact.
The patient and meticulous field work on which this book is based – and which could serve as inspiration to some 'football intellectuals', if you grant me this aside – does not result in high-standing moral lecturing. Quite the contrary: Blaschke limits himself to asking the right questions. For instance, whether it is not too easy to 'outsource' social engagement into foundations (often understaffed and underfunded) rather than put CSR into the very heart of the corporate structures, in form of transversal departments that irrigate the entire strategic management. He also wonders whether it would be really so complicated for the leagues to impose on their clubs a minimum CSR investment threshold of one tiny little per cent of their annual turnover. In one of the interviews, Dietmar Hopp, the SAP founder-billionaire who has made his childhood club Hoffenheim into a premium address of German football, actually suggests '3% as appropriate', before recognising right away that this would ' provoke an outcry', p. 125). You can almost see this philanthropist (who has actually put much more money into cancer research and health infrastructure than into football) shrug his shoulders at the mentality of corporate football.
In quite a few countries football is a booming business. Its actors tend to forget that it is a profit-oriented sector whose very success is entirely dependent on a non-economic social need that was initially addressed by civil society associations (called 'clubs'). Today these clubs have become full-fledged corporate organisations and it's time they understand that their level of social responsibility has changed. Those who are in charge of these corporate players should take the time to read Ronny Blaschke's excellent book. Maybe they would share my premonition that the football of the future would be well advised to give back to society a fair share of its totally disproportionate revenues. For professional football, embracing social and environmental sustainability will simply be a question of saving its soul.