On Tuesday, 20 September 2016, our Research Associate Dr. Frauke Austermann represented the EU-Asia Institute for an event about women leadership, co-organised by the German business women network xxcellence.net and the CCI of Krefeld (Germany).
The evening's theme was "Demographic Change: Women Leaders are Essential for Germany's Economic Success".

After the keynote speech by Christel Habig, Head of Warehouse at the e-commerce company Zalando, Frauke Austermann contributed to an intercultural comparison of women in leading positions across Europe and Asia. Here are her main findings:
Germany can learn from other countries when it comes to women in leading positions.
Germany can definitely learn from other countries when it comes to women in leading positions in private business or public service. At the same time, no country in the world has reached the 50% level. Maximum of women on corporate boards is around 35%.
Without surprise, Norway leads this ranking due to the 2003-introduced law that requires companies to ensure a share of at least 40% of women on company boards.
When it comes to women members of executive committees, Sweden is on top – but with just around 20%. Germany with a mere 16% for boards and 3% for executive committees is nonetheless far behind.
One of the major reasons is the high level of masculine values as first established by the godfather of intercultural management, Geert Hofstede. It is much more normal in France to be a working mother than in Germany, and Swedish fathers are more likely to take care of their children than their German counterparts.
Women shall not be seen as a mere fill-in.
Women shall not be seen as a mere fill-in because German companies are facing a hard time to fill top positions with men that are going to retire soon due to Germany's demographic change.
Many women are particularly skilled in leading the so-called Generation Y: women tend to prefer a demographic leadership style, they tend to be open to performance appraisal, and they support forms of work that allow for a healthy work-life balance. There are of course many men who are just as capable of such a leadership style – just as well as there are women who are not.
Better school and study results for women.
A counterfactual that was cited several times during the evening was that German girls and women tend to obtain better school and study results than their male counterparts. This may even be an obstacle for young women from getting into leading positions: perfectionism and the wish to be liked by everyone, which many women seek, are no characteristics that are conducive for successful leadership. Quite the opposite may be the case.
Through a combination of the latest figures and statistics as well as personal anecdotes from the Netherlands, France, Sweden, Japan, Korea, and China, the speech was much appreciated by the audience and helped trigger a lively debate.
For more on the subject, the overall presentation is available here.
---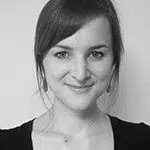 Dr. Frauke Austermann is a Research Associate at the ESSCA EU-Asia Institute.